Cleveland Indians
Friday, June 18, 7:05 PM (FSN)
Saturday, June 19, 7:05 PM (FSN)
Sunday, June 20, 1:35 PM (FSN)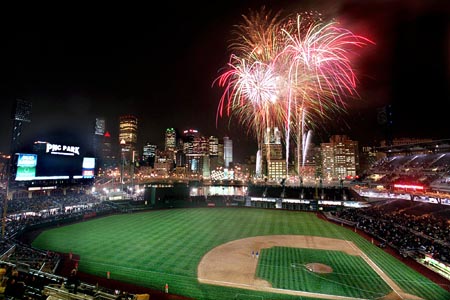 PNC Park
Listen live on [
WPGB
]
---

Nearly half of the way through the 2010 MLB season, the Pirates have not faired well. They are just 23-43 this year, and are in the midst of a gigantic 11-game losing streak. But the team they draw next has not done much better. The Cleveland Indians are 25-40 on the year and are currently extending their own losing streak, albeit a much smaller one at 4 games. These streaks are the longest currently in the Majors. Something's got to give. Maybe a good old fashioned rivalry game will finally be the spark the Bucs need to get back on track. Time will tell.


---


Expected Pitching Matchups
June 18: Paul Maholm (4-4-5, 3.63 ERA) vs. Fausto Carmona (5-5-3, 3.23 ERA)
June 19: Jeff Karstens (1-2-9, 4.50 ERA) vs. David Huff (2-8-2, 5.82 ERA)
June 20: Brad Lincoln (0-1-1, 7.50 ERA) vs. Justin Masterson (2-6-5, 5.02 ERA)
Proposed Lineups
Pirates
J. Tabata, LF
N. Walker, 2B
A. McCutchen, CF
G. Jones, 1B
L. Milledge, RF
P. Alvarez, 3B
R. Doumit, C
R. Cedeno, SS
[Pitcher]
Indians
J. Donald, SS
S. Choo, RF
C. Santana, C
A. Kearns, CF
R. Branyan, 1B
J. Peralta, 3B
S. Duncan, LF
L. Valbuena, 2B
[Pitcher]
Let's Go Bucs.