Colorado Rockies
Thursday, August 5, 7:05 PM (FSN)
Friday, August 6, 7:05 PM (FSN)
Saturday, August 7, 7:05 PM (FSN)
Sunday, August 8, 1:35 PM (FSN)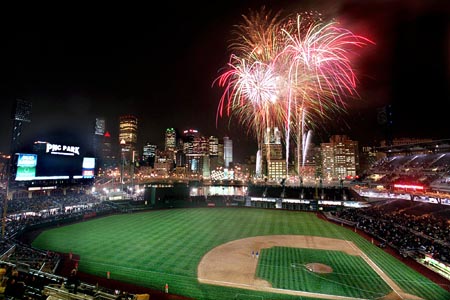 PNC Park
Listen live on [
WPGB
]
---

The Rockies are one of the rare teams that the Pirates have fared well against this season, winning a series on the road with them so far this year. They now roll into Pittsburgh to take on the Buccos in a 4-game series at PNC Park. The only question is which Pirates team will show up to play them. Ubaldo Jiminez is the odd pitcher out for the Rockies, so that improves the Bucs' chances of taking at least a tie in this series. We'll get our first look at James McDonald tonight as he makes his debut in a Pirate uniform.


---
Expected Pitching Matchups

August 5: James McDonald (0-1, 8.22 ERA) vs. Jeff Francis (4-3, 4.44 ERA)
August 6: Zach Duke (5-10, 5.36 ERA) vs. Jason Hammel (7-6, 4.37 ERA)
August 7: Ross Ohlendorf (1-9, 4.41 ERA) vs. Jorge De La Rosa (4-3, 5.01 ERA)
August 8: Paul Maholm (7-9, 4.59 ERA) vs. Aaron Cook (4-8, 5.34 ERA)
Lineups
Pirates
A. McCutchen, CF
J. Tabata, LF
N. Walker, 2B
G. Jones, 1B
P. Alvarez, 3B
L. Milledge, RF
C. Snyder, C
R. Cedeno, SS
[Pitcher]
Rockies
S. Smith, LF
C. Barmes, 2B
C. Gonzalez, CF
T. Tulowitzki, SS
J. Giambi, 1B
M. Olivo, C
B. Hawpe, RF
I. Stewart, 3B
[Pitcher]
Let's Go Bucs.